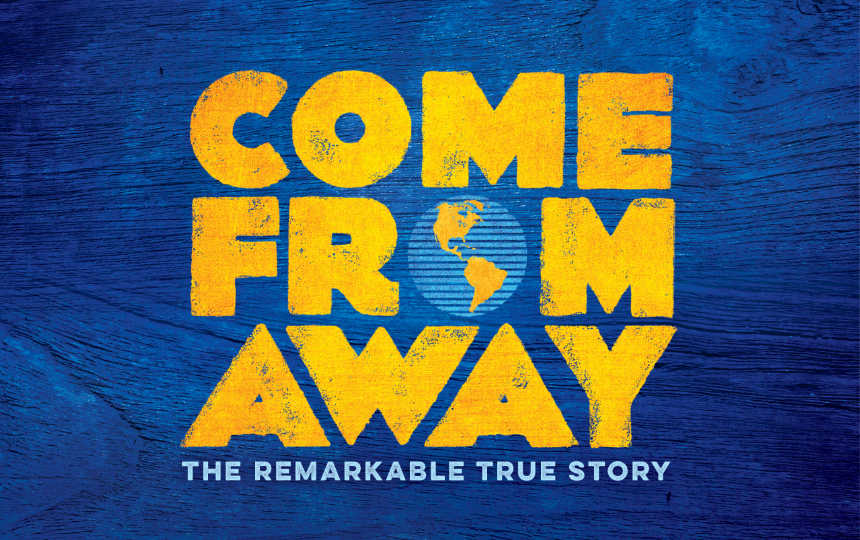 Popejoy Presents
Come From Away
A Broadway in New Mexico Selection
Popejoy Presents
Come From Away
A Broadway in New Mexico Selection
May
11
-
15
, 2022
Popejoy Presents
Come From Away
A Broadway in New Mexico Selection
Event Details
Broadway's COME FROM AWAY is a Best Musical winner all across North America!
This New York Times Critics' Pick takes you into the heart of the remarkable true story of 7,000 stranded passengers and the small town in Newfoundland that welcomed them. Cultures clashed and nerves ran high, but uneasiness turned into trust, music soared into the night, and gratitude grew into enduring friendships. Don't miss this breathtaking new musical written by Tony® nominees Irene Sankoff and David Hein, and helmed by this year's Tony-winning Best Director, Christopher Ashley. Newsweek cheers, "It takes you to a place you never want to leave!"
On 9/11, the world stopped.
On 9/12, their stories moved us all.
Date Change Information
This performance has been rescheduled from its original June 2020 date. Tickets with the June dates will be honored in May 2022. If you are a ticket holder for the show and are unable to attend, you may either receive a refund or donate your tickets back to Popejoy. If you would like to receive a refund or donate your tickets, please email UNM Ticketing Services at unmtix@unm.edu.
ORIGINAL DATES: NEW DATES:
Wednesday, June 10, 2020 at 7:30 pm → Wednesday, May 11, 2022 at 7:30 pm
Thursday, June 11, 2020 at 7:30 pm → Thursday, May 12, 2022 at 7:30 pm
Friday, June 12, 2020 at 7:30 pm → Friday, May 13, 2022 at 7:30 pm
Saturday, June 13, 2020 at 2:00 pm → Saturday, May 14, 2022 at 2:00 pm
Saturday, June 13, 2020 at 8:00 pm → Saturday, May 14, 2022 at 8:00 pm
Sunday, June 14, 2020 at 1:00 pm → Sunday, May 15, 2022 at 1:00 pm
Tuesday, June 9, 2020 at 7:30 pm → Sunday, May 15, 2022 at 6:30 pm
Sign Language Interpreted Performance
Saturday, May 14, 2022, 2pm
Masks are required to be worn by all patrons while in the venue. Other COVID-19 related health protocols may be in effect at the time of performance, including, without limitation, required: temperature checks, testing, confirmation of prior travel to restricted areas and/or confirmation of no known symptoms of and exposure to COVID-19. We reserve the right to unilaterally make changes to health protocols according to updated public health guidance and applicable law. Future updates will be provided to ticket holders prior to the performance. Any ticket holder who does not comply with any COVID-19 related health protocol may be required to leave the theater, and his/her ticket will not be refunded. Guests with accessibility questions, or who require additional assistance related to the venue's COVID-19 policies may email unmtix@unm.edu or call (505) 277-9771. Please note: This event is being planned at full capacity, subject to applicable law and governmental approval.
An inherent risk of exposure to COVID-19 exists in any place where people gather. COVID-19 is an extremely contagious disease that can lead to severe illness and death. You assume all risks, hazards, and dangers arising from or relating in any way to the risk of contracting COVID-19 or any other communicable disease or illness, or a bacteria, virus or other pathogen capable of causing a communicable disease or illness, whether occurring before, during, or after the event, however caused or contracted, and voluntarily waive all claims and potential claims against Event Organizers, The John Gore Organization, Inc., John Gore Theatrical Group, Inc. d/b/a Broadway Across America, the Venue, the Presenter, the Event, the Event Producers, and their respective affiliates, subsidiaries, sponsors, successors and assigns and their respective officers, employees, contractors and agents.
GalaPro Closed Captioning Available
GalaPro closed captioning is available for all performances of Come From Away. For more information on GalaPro, please visit our Accessibility page.