Bus Parking Instructions
ALL BUSES MUST ENTER THE NORTH END OF CAMPUS from Lomas Boulevard across from the University Hospital and take Campus Drive to Redondo Drive.
BUSES WILL STOP ALONG REDONDO DRIVE AT JOHNSON FIELD to discharge passengers, and should park and remain in place until passengers return after the program.
CLASSES WILL BE DIRECTED BY GUIDES TO CROSS JOHNSON FIELD and will be directed to walk to Popejoy Hall along the north side of Johnson Center.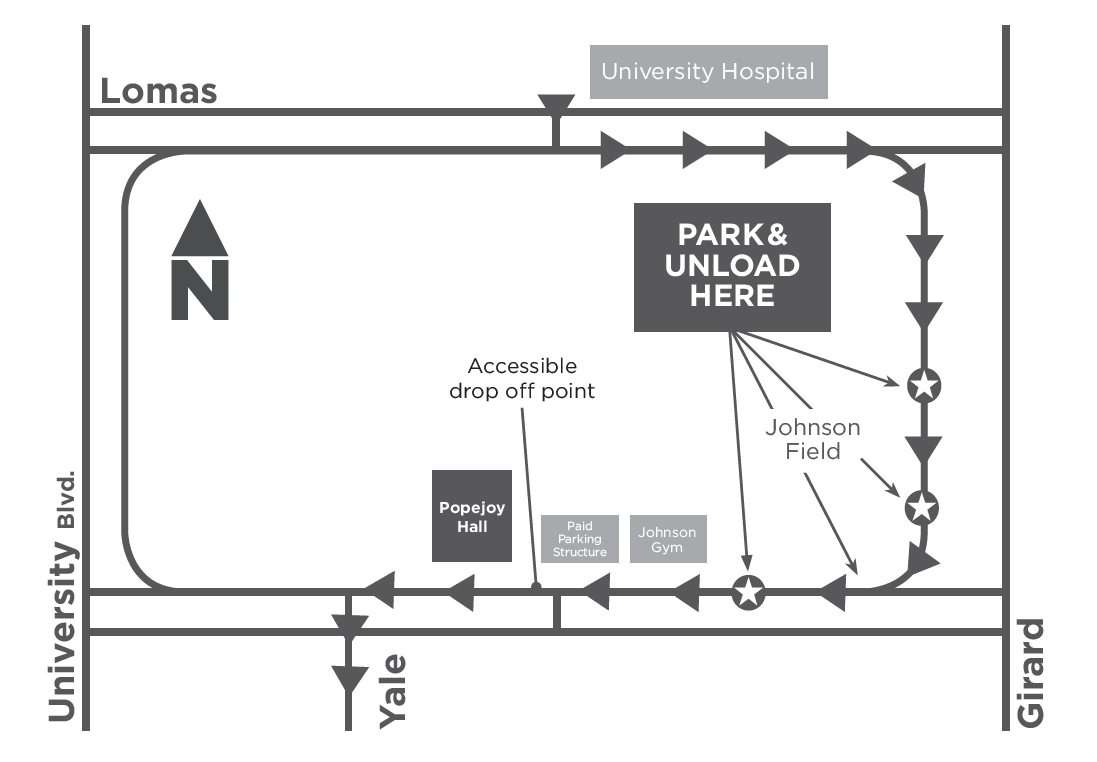 Car Parking Instructions
PARK IN THE SOUTH LOT, south of UNM at Buena Vista and Avenida César Chávez, as marked on the map.
BOARD THE FREE RED AND WHITE UNM SHUTTLE BUS at the bus shelter, riding it to its only stop at Yale Boulevard and Redondo Drive. You can view the shuttle bus schedule at pats.unm.edu.
AFTER YOU GET OFF THE BUS, turn right and walk east (toward the mountains) on the sidewalk along Redondo Drive toward Popejoy. Turn left onto the pedestrian walkway that runs in front of Popejoy Hall. Wait by the sign outside for an usher to escort you inside.